In 2010, Greg & Gracie Stevenson set out to create a store that was worthy of this great
destination we call Sedona. After spending years traveling to Sedona to visit their parents, they
decided to leave the corporate world behind and to embark on a new adventure.
Early in the investigative and planning phase, it became clear that guests were coming to
Sedona and missing the best parts of Sedona. Trail information and guidance were noticeably missing in Sedona along with trail preparedness and education. These became the corner store and mission statement of The Hike House.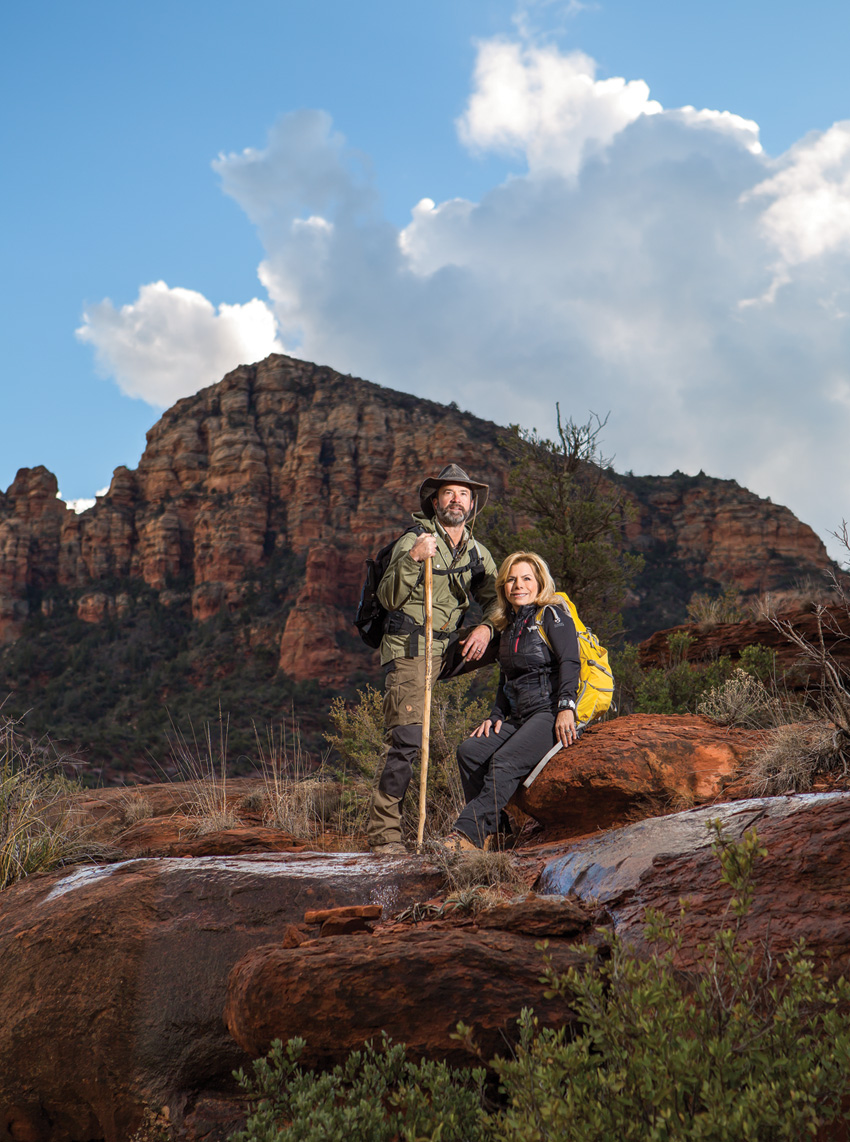 "To enhance and improve the Hikers experience of God's Creation through service, guidance and gear."
Each facet of The Hike House has been laid out in a way to address and support the needs and desires of guests and hikers to Sedona.
Sedona Trail Finder was developed specifically to help place each guest on the perfect trail based on "their abilities and desires." As guests arrive in Sedona, many are unaware that there are over 150 hiking trails in the area. Selecting the right trail can be daunting if you are new to Sedona. Sedona Trail Finder has always and will continue to be a free service offered by The Hike House.
Hiking Footwear: the goal of this area of the store was to provide, first and foremost, footwear that had been tested relative to the environment our guest were hiking (Sedona and Grand Canyon) and to provide safety and confidence while on the trail. Sedona hiking trails are mostly sandstone which is a soft rock that breaks down easily forming a loose layer we call "scree." This loose layer is notorious for causing minor/major slips along the way. All hiking boots and shoes are tested on the trail to determine their effectiveness for this region. The Hike House offers over 50 different styles and provides custom fitting.
Hiking Apparel: this facet of the store centers around "practicality and style." From a practical standpoint, our hiking apparel must provide coverage, warmth and protection from the elements. The Hike House has teamed up with the strongest brands in the outdoor world to provide their guests with a solution for any environment they encounter on the trail. In addition to practicality, style is major attribute to their collection. As Gracie says " No reason you can't look good while hiking." Many brands in the collection bridge that gap from "hiking to lifestyle to Athleisure."
Hiking Gear: The Hike House provides one of the, if not the, largest selections of backpacks, wicking socks, water bottles, sunglasses, survival gear, moleskin, sunscreen, lip balm, gloves, and miscellaneous trail accessories. If you forgot it…then there is a good chance they have it.
Energy Café: this unique facet to the store provides hikers with snacks/food for the trail, electrolytes, hot/cold beverages and let's not forget "Gracie's World Famous Red Rock Trail Cookies." In addition to hiking snacks, the Energy Café provides one of the largest selection of hiking trail maps and books for the area.
The Hike House is the #1 resource for all things hiking in Sedona. The store exists to serve, support and help guests have the best experience possible.
"If you don't want to miss Sedona…then don't miss The Hike House"